Page 2 of 5
..:: Crucial 4GB DDR3-1333MHz UDIMMs::..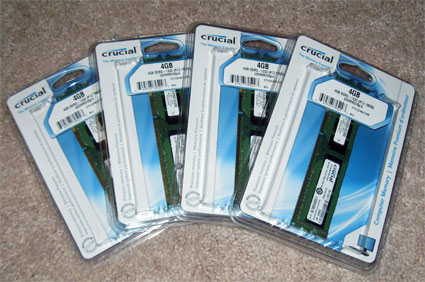 4GB Modules
240-pin DIMM Packaging
DDR3-1333 (PC3-10600)
CAS Latency = 9
Unbuffered
NON-ECC
1.5V
512Meg x 64
All in all there are no surprises when it comes to the overall look of these 4GB UDIMMs. They come shipped in the typical Crucial packaging, with one UDIMM per container. The rear side of the packaging has all of the typical marketing material found on all manufacturer packaging. The model number for these particular units is CT51264BA1339, seen in the photo above. We also see that Crucial marks the UDIMMs with their identification and warranty stickers per the norm. As you would expect at this density, the UDIMMs are double-sided. Note that they feature no heatsink. This is typical for Crucial consumer grade modules. With the Ballistix line geared towards the overclocking and high performance crowd, these modules are targeted at those users who just want something that will work, and work well. Now that we're familiar with these UDIMMs, let's see what they have to offer in 4GB Single Channel, 8GB Dual Channel, and 12GB Triple Channel configurations.