Page 3 of 8
..:: Intel DH55TC Board Layout ::..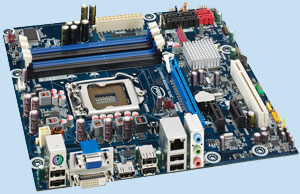 ..:: Layout - LGA 1156 Socket Area ::..
The DH55TC is a mATX solution that comes in the standard shade of blue found on many Intel motherboards, and is part of Intel's Media Series geared at digital entertainment and HTPC consumers. On a top level, we see that Intel has provided support for a single x16 PCI-Express slot controlled by the processor, two smaller x1 PCI Express slots controlled by the PCH and a single legacy PCI slot for older devices such as independent audio cards, etc. Intel provides support for two sets of dual channel DDR3, four Serial ATA 3.0 ports,  two eSATA ports, onboard headers for a serial port, parallel port, front panel audio, S/PDIF and more.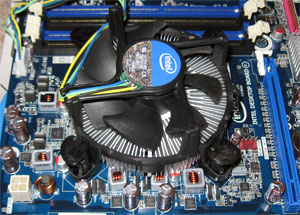 We'll begin our customary tour of the motherboard by starting with the area around the LGA 1156 socket. The DH55TC offers up five phases of switching regulators to supply the processor, memory controller and integrated video. With many boards nowadays we're seeing a ridiculous number of phases for the processor when in all reality, a three or four-phase solution for this type of product is more than powerful enough to handle Intel's load requirements. Most H55 motherboards on the market don't feature exotic regulation schemes as even the most complex I've seen thus far is an eight phase solution. You'll notice that the FETs have been arranged vertically on this board. This helps to save space, and provides for some measure of air cooling over the entire FET.
The processor area of the board is also home to the ATX CPU power supply connector, as well as the four-pin CPU fan connector. Thanks to the low power consumption of the LGA 1156 processors, you'll note that this board only has the four-pin and not eight-pin power connector. If you're still utilizing an older power supply that does not feature the eight-pin variant, you'll find no need to upgrade as you may need with higher end systems. Finally, the rear portion of the board between the LGA 1156 and the rear I/O is clean and features only an array of small devices like a level shifter IC and other miscellaneous components.