Page 3 of 5
..:: System Setup ::..
Motherboard: Intel D955XBX

Processor: Intel Pentium D 820

Memory: 2x 1GB Corsair TWIN2X2048-6400PRO

Memory (2): 2x 512MB OCZ PC2-6400 Gold Series

Memory (3): 2x 512MB Micron PC2-4200

Graphics Card: NVIDIA 6800GT

Power Supply: Enermax 550W

Operating System: Windows XP Professional SP2
..:: SiSoft SANDRA ::..
To start off our performance benchmarks, we're first going to take a look at the results obtained through the synthetic benchmarks. SiSoft SANDRA is arguably one of the best known, and most widely used benchmarks for memory bandwidth, and we'll be starting off our benchmarks with this software suite.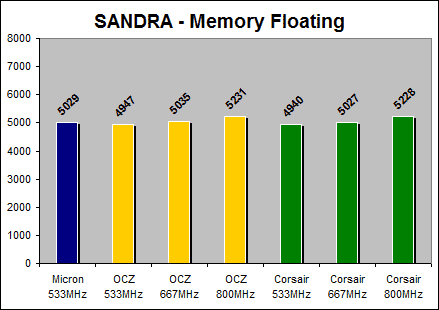 The Floating Point benchmarks yield no surprises. Given that the Corsair PC2-6400 features ever so slightly higher timings than that of OCZ's PC2-6400, we see a slight lead for the OCZ across all frequencies. Factoring in the margin of error, these sticks are performing in lock step with one another. The Micron RAM posts up ever slightly better bandwidth numbers than that of the OCZ and Corsair. This is of course due to the difference in timings given the Micron is rated for 3-4-4-8 at 533MHz.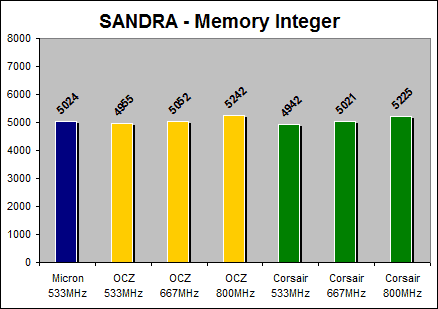 This same story holds true for the Integer portion of the bandwidth tests. The OCZ PC2-6400 holds a slight performance lead over Corsair's PC2-6400. The Micron RAM also manages to provide the most bandwidth at lower frequencies given the lower default timings it can run at. We also notice similar bandwidth growth patterns between OCZ and Corsair as we crank up the frequency. Keep in mind -- these tests were all done with the FSB and CPU frequency fixed.