Page 3 of 7
..:: MBReview.com PriBench ::..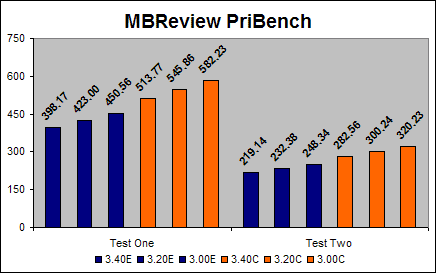 PriBench v1.04 is much like SuperPi in that it is computationally intensive; however PriBench relies heavily on arithmetic performance. PriBench is a system level benchmark, and relies solely on the performance of the processor and memory subsystem. Unlike many of today's synthetic benchmarks which rely on other aspects such as hard drive speeds, etc. PriBench does not rely on any "exterior" devices for the tests. PriBench was coded in house and utilizes a computationally intensive algorithm to compute primes well into the 100's of millions for the current version. The program is extremely precise as we have seen time fluctuations of around +/- .03 or so seconds. For this review, I chose to run the two most intensive tests available. In PriBench, we can see that there are some very nice gains in each of the progressive processor speeds. "Prescott" is able to really shine through in this benchmark over the "Northwood" core, and clearly is able to illustrate that even though the pipeline has been deepened, some of the other architectural changes that have been made clearly improve upon computational performance.
..:: DBPowerAMP ::..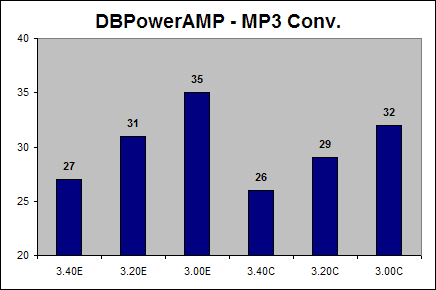 Our next benchmark for our review today is that of DBPowerAMP. We utilized this software in order to measure the amount of time, in seconds, that it took each processor to convert a sizeable .wav file over to the .mp3 format with LAME. If we take a look at our results, we once again see that the "Northwood" core is able to overtake the "Prescott" core in each benchmark, although as we increase in clock speed, the performance lead of "Northwood" starts to decrease. At this rate, the "Prescott" core should be able to overtake "Northwood" around the 3.80GHz to 4.00GHz mark, the speeds at which many believe "Prescott" will begin to shine.
..:: TMPEGEnc ::..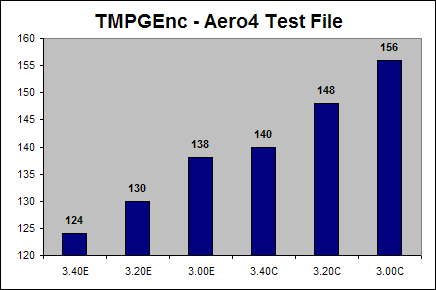 For video encoding performance, we took a look at performance levels offered by TMPEGEnc. For our testing purposes, we chose to utilize the default test movie, Aero4, in order to acquire the conversion times. Each time the file was converted to the standard NTSC video size, while noise reduction and other enhancements were disabled. The TMPEGEnc performance shows some very sizeable gains in performance between "Prescott" and "Northwood." With the enhancements that have been made to the "Prescott" processor, we were expecting such performance gains, especially from initial results we achieved in our 3.20E review a ways back. The "Prescott" core is able to easily best "Northwood" clock for clock, and holds an average lead over "Northwood" of roughly 17 seconds per speed grade, or roughly 12-13% on the grand scheme.